YMS presents! Calendar 2010
The best Russian women racers took part in the unprecedented art-project planned by "Yakhnich Motorsport". By a joint effort of the professional creative team participants the calendar "The Best Pilotesse of Russia" for 2010 was made. Here Nadia Yakhnich, Natasha Lyubimova, Tania Semenova, Sveta Matjushkina and Katia Rutskova appeared in absolutely unusual images. They are used to look tough, self-disciplined and energetic on the track but for the calendar photo session they managed to reveal all their sensuality, tenderness and emotionality. In the motor society it has been known long that indeed beautiful bodies and delicate souls of the motor racers are hidden under their uniforms and helmets. Now everybody who will get the calendar YMS will be able to see it. This calendar can be purchased on the website of the team. The five girls created twelve images worked out by the famous stylist Olga Rubets. Many people remember some hairstyles created by her for "The World Miss 2008" Ksenya Sykhinova which they could see on the billboards of "Eurovision" in Moscow. The stylist Vlasta helped her to realize the photo session ideas. The girls owe Pavel Kulekov their fantastic make-up and they have the young designer Julia Kalmanovich to thank for their rock'n'roll costumes. These exciting images were photographed by Mikhail Kharlamov who is becoming very popular now.
The main aims of this project are to show beauty and grace of the professional sportswomen who are not afraid of speed and danger and to break the stereotype that a beautiful woman and a bike are incompatible with each other. This goal seems to have been achieved. We hope that the girls' beauty will draw more attention to motor sport and it will get new admirers.
NADIA YAKHNICH:
Our idea was to show an ideal girl's image: she is healthy, attractive and can do a lot in her life: bring up her children, win on the track and remain a beautiful woman at the same time. We hope that having seen the calendar some people will follow our example.
We also want Russian motor sport to be finally noticed. Italy is the leader now and we are about ten years behind it. But we can reach this level with the right approach to the matter. The weather is quite European in Russia and there are many talented sportsmen. All we need is support, modern tracks and professional schools. Then Russian pilots will mount all European podiums!
NATASHA LYUBIMOVA:
We didn't want to depict aggressiveness and hard-rock in these photos. There are no torn tights and vulgarity here. On the contrary, we wanted to show that cool races on the track are beautiful and fragile women in everyday life. But at the same time they are very strong in spirit and capable of great endurance. For example, for one night we produced 12 images and remained active enjoying the process of photography as much as we enjoy racing. Our photographer confessed that not every professional model is able to stand it. That is where we can demonstrate our sport tenacity.
TANIA SEMENOVA:
I liked this project very much, the team was professional, I enjoyed it! Generally speaking, participation in such fashion events isn't my new experience: In the frames of "The Russian Fashion Week" I took part in Sultana Frantsuzova's show and came to the runway on the bike. Then I had a new image too. But still it wasn't a photo session, so in fact the participation in this project was my first experience of being a photo model. It was very funny to change my look, we are absolutely different in our everyday life! We don't have such make-up, I don't wear my hair dark we don't usually wear such clothes – I prefer either classic or sport style. But everything was different here! I felt quite unusual! Most of all I liked the make-up and hairstyles. Olga Rubets is undoubtedly a professional! In terms of the clothes I cannot say that it is my style. They were not quite to my taste but on the other hand it was interesting to try something new especially as we changed our images in the course of the photo session! And it wasn't only different appearance but also different mood: In the one photo I perform an aggressive bitch, in the other photo I am tender and affectionate. Super! The atmosphere was great in the studio: the photo session took all night and, frankly speaking, it wasn't easy to endure it but we had a lot of fun, played jokes on each other, devised something new – new poses, foreshortenings and the photographer considered our opinion and often agreed. It goes without saying that I'd like to take part in a similar project again, to change my image once more – there remains one thing to do - to become red-haired! (Laughs) I am different in my life too: my image on the track is different from that I have at home. The same happens to my photo images – it is interesting to change!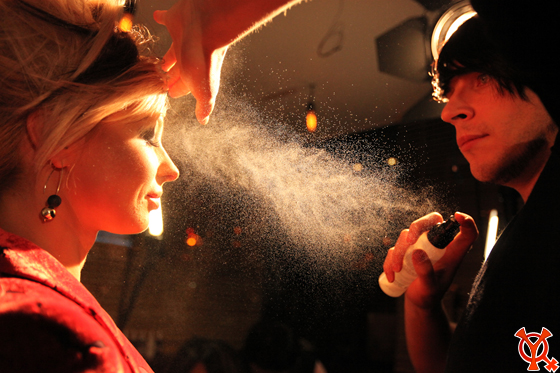 SVETA MATJUSHKINA:
First of all I am happy that I had a chance to take part in the project, for the first time I was able to show my worth in this field though I had dreamt about an interesting photo session for a long time. But I am sure if it hadn't been for the girls I wouldn't have made up my mind to do it. The creative team was super we worked well together, I love them all! I liked the make-up, images, idea in general: everything was stylish and fashionable. And it is interesting that the main idea of the project was to make us absolutely different from our real images. For example, I am a very hot-tempered and unbalanced girl but in the photo I am an embodiment of tenderness and languor. I expected rock'n'roll, provocation, I was eager to put on a corset and have a Mohawk on my head in order to look aggressive. Finally my image was softened, my hair was curled and I was asked to make my look languor. The only aggressive detail left was the pair of leopard shoes. But if the stylists saw me exactly in this image I was to do my best, though I have much more brutality in my character. That was the stylists' idea – to break my own stereotypes in my self- perception, to make my image as different as possible. It was great! If we speak about the break of general stereotypes about women racers - this goal was successfully achieved too. We are usually fancied big and brutal, wearing rocker-style leather jackets, but in reality we are very fragile and look womanlike. The photos just make it more emphasized. The photo session night didn't seem tiring to me, though all the team (the stylists, makeup artist and photographer) were surprised with our endurance and self-confidence. Of course on the way to the studio I had some feeling of anticipation, adrenalin and butterflies in my stomach but then all the session went off smoothly. I had a lot of fun! We invented a lot of new images, made some changes in the course of the session. For example I was the only girl whose size is 46 and there were no dresses for me! I had to find some way out. I am looking forward to getting our calendar and have already found a special place for it at home! It must be super!
KATYA RUTSKOVA:
The photo session for the YMS calendar wasn't my debut – I had taken part more than once in different professional photo projects. Therefore, I wasn't so wild in my reactions, I just wanted to do my best. I felt fine! My previous experience enables me to say that the creative team was really very professional, especially I liked the makeup artist. I was also glad to get acquainted with Olga Rubets, she had been recommended to me long before. She is really a professional – colorful images and hairstyles. Besides that her idea about tattoos is very original! Tattoos are widely used in photography but it was a new idea to mark names of the months!
Before the photo session I didn't know what the stylists had prepared for us, but I can say that in my case they hit the mark, I liked everything – the style of photos, hair, makeup, clothes. Everything was great, but of course I got a bit tired for 9 hours of photography but it is quite normal for a professional photo session. When it is really interesting to work and the team is good you can stand everything.
It seems to me that the main aim of this project is to announce that Russian motor sport exists! And besides that beautiful girls are quite good at it. I'd like these photos to be seen not only by our friends who are interested in motor sport but also by those who are not familiar with it. As for the motor society I am waiting for backroom discussions of this project and want to look at the envious people and listen to the gossips.
Another about us:
07.12.2009