Cadalora roots for Randy Mamola's son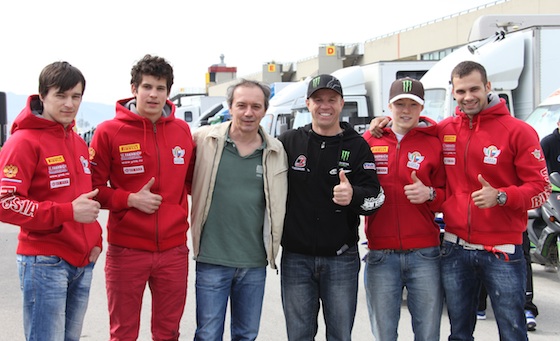 It has been a great surprise for Mugello paddock today as well as for the team "Yakhnich Motorsport" to meet and shake hands with Luka Cadalora – a legend of world motorsport. First of all Randy Mamola invited his old Yamaha team-mate to visit our team's box and support his son – Dakota Mamola – in his first CIV competition. 
Luka Cadalora is a world ex-champion (classes 125 and 250 GP) and the world vice-champion (category 500) in 1994.
In  "Yakhnich Motorsport" box after Stock 600 first session Luka gave some pieces of advice to Dakota in his debut on the tough track of Mugello, which he had finished 13th (among 40 pilots) with time 1:58.876. 
"There must be something of Randy's DNA, as he was able to record good time", - said Luka. "It isn't easy to find right trajectories on this track at once and it isn't easy to race in the CIV championship with all these rivals, But Dakota seems quite concentrated and self-confident. I hope, things will come right, he will enjoy the race and will be able to rise to our eminence in future…"
24.03.2012