Sport time
On November, 19 Nataliya Lyubimova was a special guest of the program "Sport time" (live broadcast) in Krasnogorsk.
This town is famous for its sport traditions especially it concerns winter kinds of sport. The teams of the well-known sport club "Zorky" have more than once been the prize winners in skiing competitions as well as hockey, football and basketball tournaments. The ski track of Krasnogorsk hosts qualifiers of all Russia's biggest ski competitions as well as training sessions and eliminations for The Winter Olympic Games. There is a unique year round indoor alpine skiing complex "SnegCom" in the town where it is possible to go skating, skiing and snowboarding even in summer. But above all Krasnogorsk is the capital of Russian speedway – motor racing on the ice – and every year hosts international competitions in this extreme kind of sport. The motorcycle community of the town is limited to amateurs and members of some biker clubs but the citizens show sincere interest in development of this sport. So the program with Natasha's participation turned out to be really interesting for the audience because motor racing (especially women motor racing) is a fresh item on Krasnogorsk's sport program.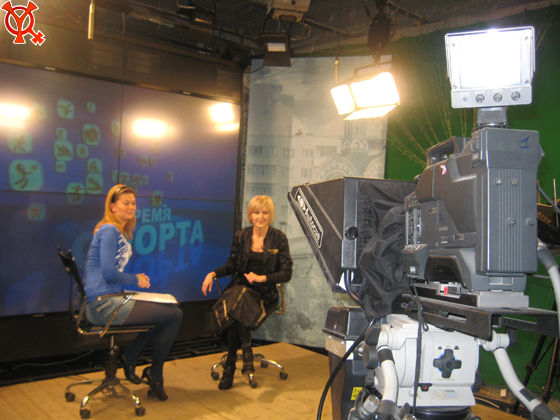 Natasha was given an extremely warm reception and was liked both by the TV channel crew and the viewers who asked her a lot of questions and shared their opinion about women motor sport. Natasha presented souvenirs to the journalists with logotypes of "Yakhnich Motorsport" and also had a photo session and autograph session with them which made the young crew of the TV channel very glad. Unfortunately, Nadia couldn't take part in the program because of her illness though we had hoped to the last that she would manage to come…But she has been heard a lot in Krasnogorsk, so in January, when the speedway competitions begin, our racers are being waited again by the journalists of "KRTV" both on the stands and in a live program!  The recorded program is sure to appear on our website.
Video you can see here
20.11.2009