Australian strength test
MV Agusta Reparto Corse - YAKHNICH MOTORSPORT
 Phillip Island, Australia. Test
17-18 February 2014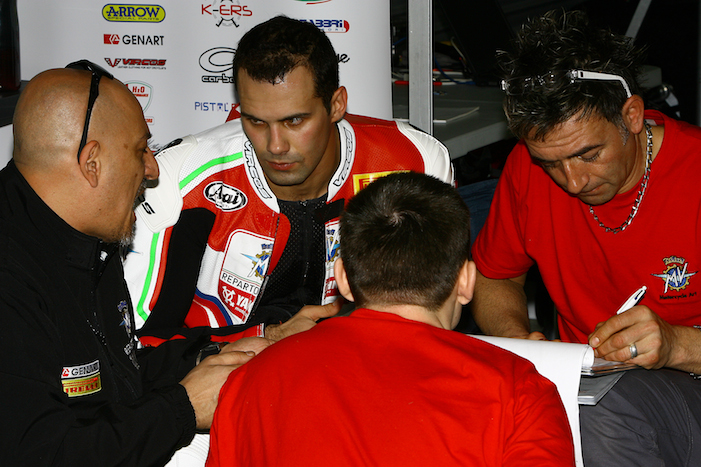 Yesterday the team MV Agusta Reparto Corse – YAKHNICH MOTORSPORT finished the last test on the Phillip Island circuit before the first race. The first stage of the World Superbike Championship 2014 will be held here in Australia just in a few days.
The entire team carried out test. Each rider worked on his own program. As a result of the ban on pre-season tests teams have disastrous shortage of track time. Especially for teams that change the manufacture in the offseason. So our riders and their crews have a lot of work.
Claudio Corti continued to develop his F4 RR. The Italian spent a lot of time in pits periodically checking out for a few laps. On the first session of the second day was a slight fall that hampered Corti's crew. On the second session engineers made some settings allowed Corti to feel better the bike. As a results Corti got the lap time - 1'32.858 and made only 62 laps.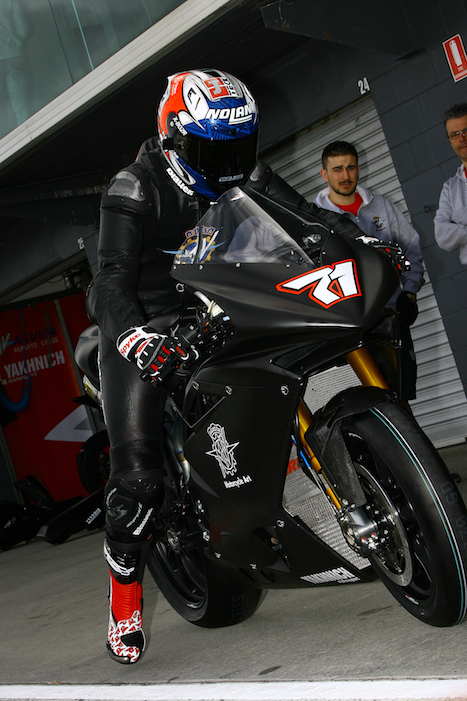 The goal for Leonov's crew was to find the balance in the system "Leonov - F3 - Phillip Island". Already on the first day Vladimir came in third place in Supersport class and consistently maintained the pace to the end of tests. Leonov used on two sets of tyres less than other riders. He made most of laps on used tyres as the team tried to approximate to race conditions. On Tuesday Leonov rode on significant used engine having passed tests in Jerez, Portimao and a day and a half days in Phillip Island. He didn't try to get best time working on settings for front fork. Leonov's time - 1'34.295. It gives confidence Leonov will have a great race.
Cluzel's crew had a lot of problems. Sometimes it seemed French rider's bike didn't have serviceable unit. Incorrect work of traction control, hard vibration throughout the bike, flew over transmissions and it's not the whole list of problems that fell down on the vice-champion of the Supersport 2012. The team striped twice the bike, in the end, the problem was discovered – clutch defect. After resolving the problem Cluzel showed the second result and finished the session on the 4th place with the lap time 1'33.984. For the remaining minutes he couldn't improved the time. Now the team has clear idea how to start the race weekend.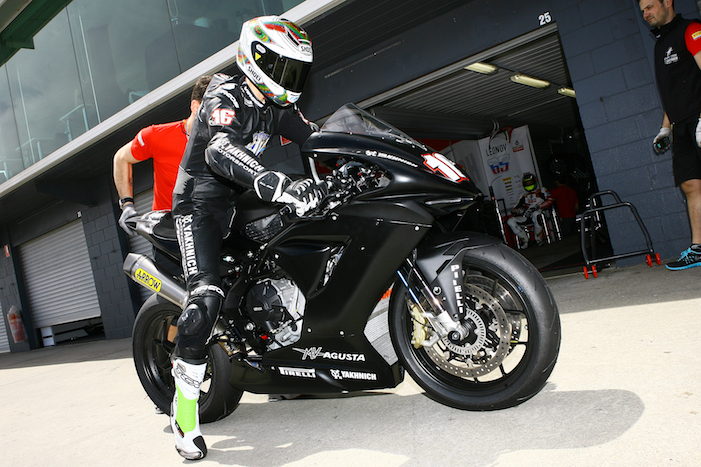 Claudio Corti: «On Monday everything was good, we work hard trying to reach our goals. Tuesday started not so good. I made a mistake and fell. But we try to make a great fast bike checking different solutions so I can't work in relaxed way. Every time I try to be as fast as I can. Fall hampered us a bit. You know, it's hard to find the temp after the crash. Problems here are much higher than Portugal because of different conditions. The main thing is not to give up as we are in the beginning. Development is not easy."
Vladimir Leonov: "During the first day we tried to find base settings and almost immediately hit the target. I showed the good pace. We still need to improve the bike and we succeeded. Now I can brake late and fast cornering.  It's a pity that I couldn't improve my lap time during the second day as I had another aims. Also I didn't want to force the engine, it has decent trains. In any case, the main work on finding fine setting will start on Friday and continue on Saturday. On Sunday the race will examine us."
Jules Cluzel: "It's not easy test. The weather is fine, the bike is good, the track is great, but it feels like black cat crossed our way. We tried everything during these two days, but nothing worked. All sessions of the second day interrupted with red flags. It's not added optimism. Honestly, I thought I would lost these tests. However, we found the problem and started to solve it. We worked in a big stress but I'm happy we could sort out. We know what to do. We still have a lot to do on the race weekend. I hope for a positive outcome of the race."
19.02.2014