Mugello, YMS – the 4th stage of Trofeo Amatori and Dunlop Cup
The 4th stage of the championship Trofeo Amatori in Mugello (Italy) is over.
The qualification round resulted in a rather dense start grid: many participants of the competition familiar to the pilots of YMS had made very good progress. Nadezhda Yakhnich took the 30th and Nataliya Lyubimova the 36th position on the start greed. The head coach Claudio Corsetti aimed the racers to take a good start, improve their positions in the course of the race, find good pace and try to record better time. Nadya Yakhnich was able to fulfill all the coach's tasks: she kept high speed from the beginning to the end of the race and took her start rivals over, having improved the finish position. Natalya started well too, but then she made a mistake having "stuck" after a slower racer.  But as soon as she took him over she was able to improve her time by 3 seconds.

Natalya Lubimova: "I am conscious of all my mistakes and consider this race the perfect practice for the next stage which will take place in Mugello too. Besides that this race has given us helpful hints how to adjust our bikes for the next stage".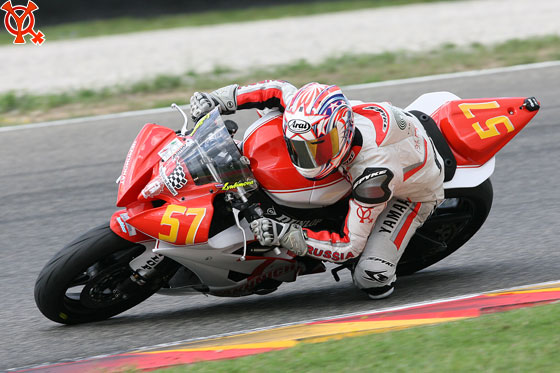 Last race week-end the new pilot of YMS Sergey Vlasov represented the team for the first time. The racer performed in Dunlop Cup which is in the top-five of the most prestigious Italian motor-competitions. The pre-race training had started in Mugello 2 weeks before the race. Sergey had an opportunity to get to know the team, mechanics and the coach better. The work started at the practice was continued on the track in the race. Under conditions of tough rivalry Vlasov started excellently, took good pace and being the 10th at the start he managed to finish 6th. Of course, the perspective pilot attracted attention of his rivals as well as of the championship organizers who augured him successful racing future.

Sergey Vlasov: "The initial aim of this race was "just to try to ride", to communicate with my teammates and coach and examine the track. Thanks to the coach, girls and mechanics I was able to examine everything in full measure. I explored the track, got the feel of the team, everybody helped me to work as productively as possible – hence I was able to achieve this result. After the first practice I had some expectations, but finally I was able to make much better progress than I had expected. For the first time I realized what "real work" in the team meant: to find right words, right mood! It turned out to be extremely important! In the race we tested all the adjustments, technical decisions, it was some experiment and it was successful: I managed to record the best time in the last but final lap, and overtake the 6th sportsmen in the final one. The most important thing in this race was not the final position but realization that we could work well all together in the team, everybody felt satisfied and gear up for further work."

Besides that it was interesting to race together with my countrymen – Eduard Blokhin and Valery Yurchenko. It was very pleasant to get acquainted with such experienced racers!"
31.08.2010