"Yakhnich Motorsport" opened the season - 2011 in Italy
Nadia Yakhnich and Natasha Lubimova took part in the first race of the season: The first stage of the Italian Cup – Trofeo Femminile FMI "B.Bossini" took place in Vallelunga.
Natasha Lyubimova found the beginning of this season quite positive. In the qualification the racer recorded time of the last season and found herself in the first group of the fastest pilots pretending to improve in the race. According to the qualification results Lyubimova started the race seventh but wasn't very lucky and lost one position at first, then in the seventh lap she performed two overtaking maneuvers, improved her time and finished sixth. On the whole the YMS racer took the 5th position in category 600. Besides that in the tyre rating (the competition rules don't regulate tyre choice) Natalya took the 2nd place among those pilots who used Metzeler.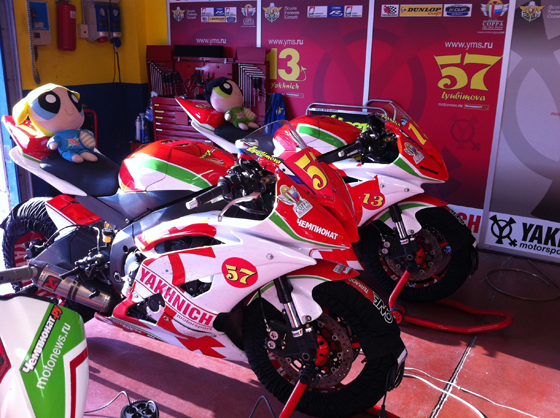 For Nadia Yakhnich the season started with unpleasant news. The pilot's doctors confirmed officially that Nadia's medical condition wouldn't allow her to work in full: Yakhnich cannot keep speed of the race for more than 3 laps because of serious problems with her spine and blood circulation which require urgent operation. On Friday Nadia missed her training by this reason, but on Saturday she took part in the qualification and recorded her last season time. On the doctors' advice the head coach didn't insist on Nadia's participation in the race, but she decided to ride. The racer showed very good start and she could also mean to show very good finish but her medical condition didn't let her do it and Nadia left the track after the 4th lap.
Nadia Yakhnich: "I am satisfied with my result, taking into consideration that I had to race without practice. In any case, it was interesting to take part in the race even not meaning to finish it. Natasha and I had agreed in joke that I would cover and protect her from the rivals on the track. So it happened! We started together and I began to cover her. I had a chance to overtake my team-mate but I couldn't find any sense in it. When I left the track I saw that there was nobody to protect Natasha from: we had drawn out much. As for my health situation – of course, the news is unpleasant. It is even more disappointing to me because the weather was wonderful and I had a very good start position, so if it hadn't been for my health problems I would have had an opportunity to show good results. Now I will have to miss at least one race – the 1st stage of Trofeo Amatori and the doctors don't give any guarantee concerning results of my operation. I hope everything will be fine and I will be able to come back and work in full. And I am very happy for the team, everybody did well and showed perfect results!"
05.04.2011