Stock 600, CIV, round 5
Very difficoult decision to take just before the race: use the "0" compond or the "1" compound in rear tyre? Asphalt temperature was to the limit accepted by the two tyres, and at last moment we decided for the 1.. it was the right choice, as race demonstrated...
At the start Leonov was already first! One, two, three laps... nobody could attack him, exaclty like it happened in Monza last April. Lap by lap many contenders tried to overtake him, but even taking the slipstrtam on the long Mugello straight, it was impossibile for Russo, Lombardi, Pascarella (chrashed at thirt lap) to overtake Vladimir. The race rithm was not so high: 1'56"6- 1'56"8. In the middle of the race Casalotti using the zero in the rear, overtook Leonov, but after one lap he was overtaken by our rider and disappeared little by little up to the 9.th final position... Yes, the "0" tyre was not the right choice....
In the last two laps Vladimir pushed and pushed, and only Lombardi was able to mantein the contact. Same situation as in Misano race 1 last june: Leonov in front, Lombardi back, impossibile for him to pass if... if Leonov do not wrong in last corner...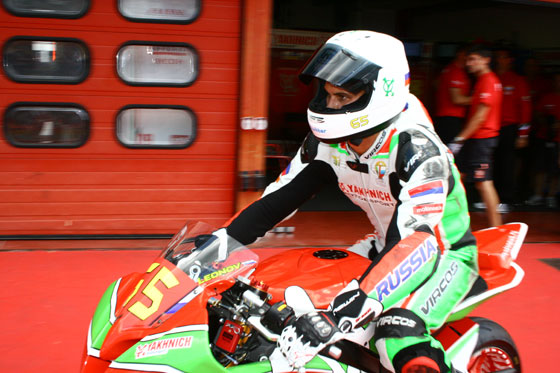 All final lap Vladimir thought about that: last corner, last corner, last corner... in that point he was the fastest, but decided to enter even more faster, to "destroy" Lombardi possibility to take the slipstream in the long way to the finish line.
Too fast, Leonov... you entered too fast!!! And in the exit the line was not perfect for that. Vladimir had to release gas just for a while, Lombardi came back in contact with him, took the slipstream and... 5 fucking cents of second he won against our rider!
Not bad, not bad, but the dream of victory was already becaming true, to be absolutely happy. Ok, second place in any case is a very good performance...
Unfortunatly just 30 min after the race finish, the officials call the team: in front tyre there is not the mandatory stiker... shit... in the rushing moments before the start, while taking the decision of which tyre put in the rear, mechanics putted the stiker in front not in the right way, and probably during the race Leonov lost it long the circuit...
No, abosolutely today was not our lucky day...
Hope tomorrow, to obtain the victory all of us deserve!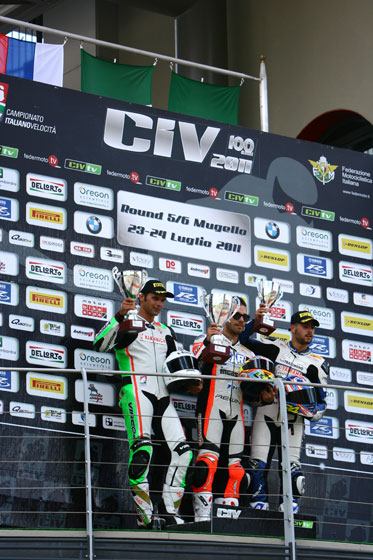 23.07.2011