Vladimir Leonov finished first day in race weekend in Portimao
PORTIMAO
14-16 OCTOBER
LAST STAGE WORLD SUPERSPORT
FRIDAY FREE PRACTICE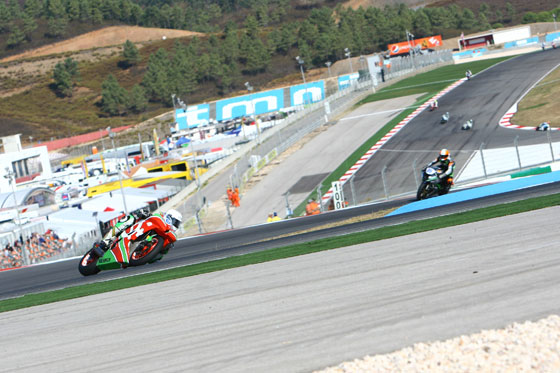 Double "faced" practice for Yakhnich team in the wild card participation at last world supersport stage of the year
The Yakhnich team had a double faced friday at Portimao. Worst of all, Vladimir Leonov started the first free practice still with some fever lines and not in the perfect health condition, done to the flue all over last week.
But in any case, he was astonishing performing in the first free practice. All team was hoping to see the red/white/green bike in the first 15.th position, but, incredible, we closed the first practice in 9.th position, riding in 1'47"2, just 1"3 back of the best lap.It was a good session, during which team changed different final ratio, and tested two different type of rear tyre compound.
Looking to vladimir along the track, it was easy to understand that the total performance and the combination rider/bike is already at a good level.
It really does not seems to see a rookie inside the group. Vladimir ride with the fast rhythm of the leaders, and it is not a surprise to read the final result of the test.
So, in the afternoon team was ready to improve again the performances, testing new settings and tyre combinations. Unfortunately, during first stop to change tires, the front wheel speed sensor cable was broken by the operations, and this broken cable created an electrical shock to the Marellli Marvel 4 ECU.Results, stop for the trainings after 5 laps, and a whole working afternoon for the team, to fix a never seen before problem...
OK, better today then in qualifying...
Feeeling of the day? Simple... Vladimir can easly stay in the first 10 positions...
Let's see tomorrow.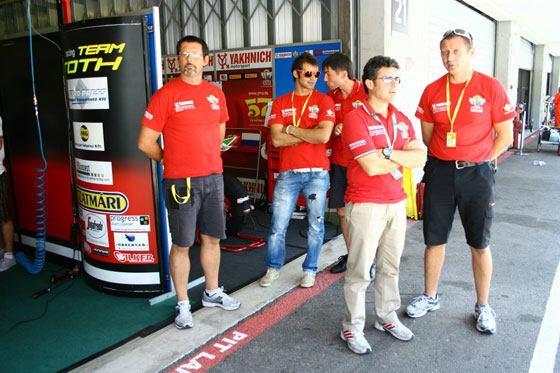 15.10.2011