Imola. Second qualifying
Supersport world championship
Round 2
Imola 30 march, 1 april
 Saturday was not the best day for the Yakhnich Motorsport Team here in Imola. After the good result of friday, the thecnics tried to find the way to give to Vladimir the possibility to improve his performances, modifying the bike with a setting that usually he likes more than the one used on friday. He likes short and quick bikes, but on friday the Yakhnich R6 was longer than usual.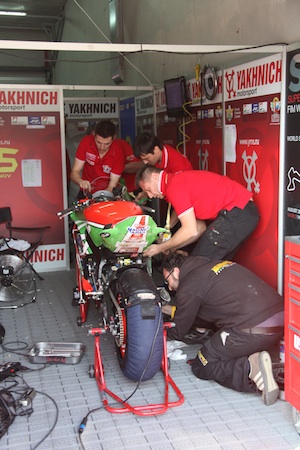 But Imola is a really difficoult circuit, and requires stability more than agility... Saturday free practice results showed that a shorter bike is less performer than longer, and vladimir didn't find a good feeling. Lot of movings, front and rear, and it made even more difficoult to work in hard braking. No way for him to sign less thean 1'54", far from the 1'53"3 of previous qualifying.
SO, for the second qualifying session, team went back to the old setting, longer bike, more stability and confidence with the rider.
One, two laps to understand that all was OK, and immediatly we setted the soft tyre to search a fast lap. Unfortunalty just at the end of the first lap vladimir jumped on the curbs in last corners, and crashed. No damages, but officials stopped him.
So, we had to wait more than 20 min before bikes was gived back to the team at box. In less thean 10 min the box fitted the bikes, put new tyre in the rear, and send vladimir againg in the track... one lap, and... red flag! When vladimir returned box, we had only 3'29" to the end, and still we didn't had one single fast lap!
When pit was again opened, we knew we had only 1 lap to the checkered flag... and Vladimir did a wonderful work. You can image, with the pressure of the crash, nervous because of all problems, he realized immediatly 1'52"2, so better then friday qualifying in just one lap.. Ok, we lost the 7.th position, we will start 13.th now, but we are sure to have a very good rithm and a very good chance.
Even, pay attention: tomorrow weather forecast says that may be rain just beetween 13,00 and 15,00, so, just during the supersport race. We will see...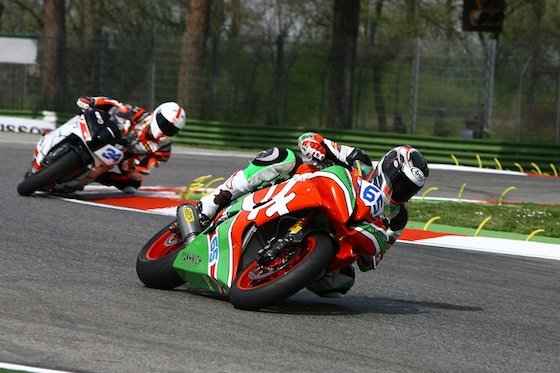 01.04.2012