Vladimir Leonov on the podium of WSSP in Assen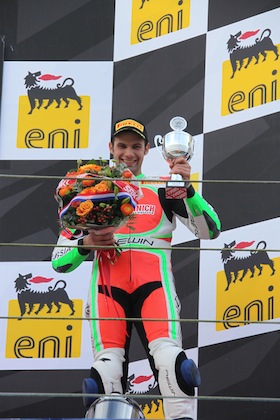 World Supersport Championship
Round 3
Assen 20-22 april 2012
AN HISTORICAL DAY!
Sunday 22.th april
Third place! Podium at the third race!! Can you image which level of happiness is in the Yakhnich Box of Assen at the end of this historical race?
Never, before today, a Russian rider was on the podium on a world championship road race. 
Never, before today, a Russian team was on the podium on a world championship road race.
Now we did. And we did just after three races. Yes, we was lucky because it was raining, and, you know, our bike and our rider are very effective in these conditions.
But, have a look back of us: great riders and great teams are about ten second back. And have a look to the actual championship standing: Vladimir Leonov in fifth position. This is the target we was hoping to reach at the end fo this "school season" in the world championship. Being here now is a great satisfaction. And it cames both from team work and from rider talent and intelligence. 
Vladimir started the race with a not "full wet" setting. We was hoping that the line could became drier and drier during the race, and gived to the rider wet tyres with an "Intermediate" setting. 
Have you seen him sliding a couple of time during the race? He understood it was so important to finish the race on the podium, that decided in the last two laps to slow down the rhythm. Second or third today do not change the value of the Historical moment.
He could try to attach and overtake Sofuoglu, after beating Brok Parkes (well known as a rain expertise rider...) but it does not matter Vladimir! You made happy all Russia today. There will be time in the future for better result, but today it is already wonderful like that.
Sunday, 22,th april, at 14,42, when checkered flag signed your third place, the History was done!
VLADIMIR LEONOV: "It's incredible, I cannot believe! Third, among all of this famous and fast riders... It's an incredible emotion, I'm so happy that it is even difficult to speak and explain. The race was difficult, I tried to stay calm in the beginning, then, after overtaking Parkes, I understood that I could be faster than Sofuoglu, and I tried to overtake him. But immediately after as I was second, I started to do mistake, loosing the line... Then I though to let him pass and follow, to not do any more mistake, the result was so important and awesome to risk to crash. I want to say thank's to the team, all of us are working so hard in this championship. And I would like to dedicate this first Russian podium to all Russians and say: we are here!".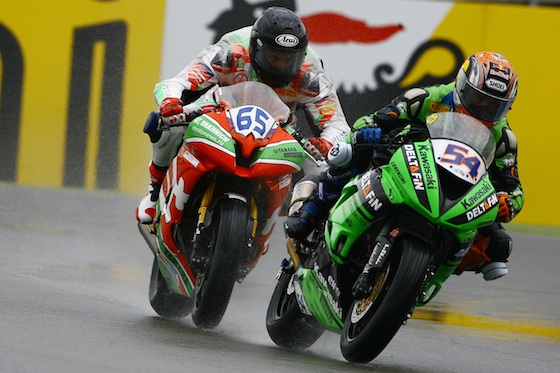 22.04.2012