First qualifying 
World Supersport Championship
Round 4
Monza 4-6 May 2012
Friday 4 may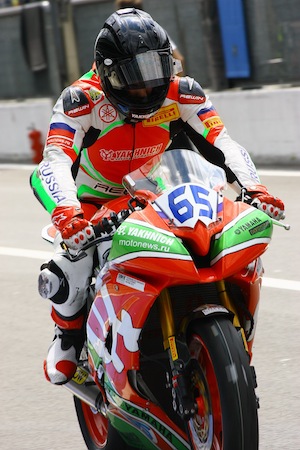 Coming from  the astonishing podium of Assen, the Yakhnich team arrived in Monza hoping to start the week-end with the same optimum mental condition.
But racing is racing, and every week-end has it's own story.
Monza is one of the most difficult circuit in the world for the engine and for the brake system, so we prepared a new step in both this technical side of the bike setting, just to give Vladimir Leonov the chance to go on in his climbing the start grid.
The first free practice on Friday morning was really important to check all this details, but we couldn't do more then 6 laps, because of some electronical management setting failure for the new engine.
Because of that in the afternoon we went back to the old engine and settings, but we was obliged to do in the afternoon, during qualifyng, the work on brakes and suspensions setting prevented for the morning, loosing the first part of the qualifying doing this work. 
In the second part of the session Vladimir could ride for laptime, and the first run was not so bad, fixing the time of 1'49"880, that at the moment value for the 15.th place in the grid.
The bike and rider potential today is for a much better position. Even about top speed, thank's to the engine development work, now we are no more so far from the leaders. So, the expectation for second qualifying is for a better results, but, again, rain is declared for tomorrow in second qualifying and even for Sunday.
VLADIMIR LEONOV
"It was not easy work today. We lost free practice, so we had to concentrate all test during qualifyng. In any case as starting point we are not so bad. Naturally I would like to start in the front rows, and that's what we hope to obtain tomorrow!".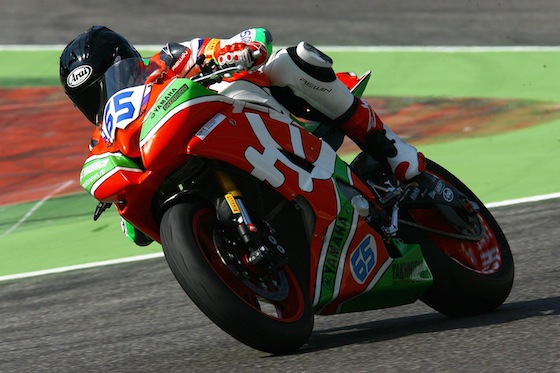 04.05.2012