Supersport, 1st Qualifying, Friday
World Supersport Championship
Round 5
Donington 11-13 May 2012
Friday 11 may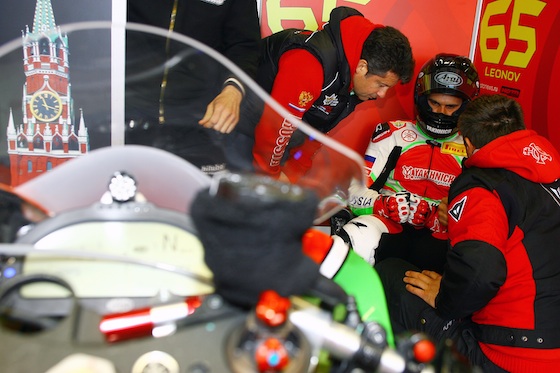 Again  the bad weather. The 2012 WSS championship seems a "winter championship" up to this moment. Even in Donington cold temperature and some rain shower was waiting the riders on thursday, but fortunately friday morning, for the first free practice, the circuit was dry after the night rains. 
Dry but mostly slippery... Donington circuit is side by side to the West Midland Airport, and the airplane gas released in the air during take of and landing, create a slippery film on the circuit, especially in the cold morning asphalt. The first free practice was very difficult, many crashes, but fortunately it was not the case of Vladimir Leonov, that ended the session with a promising 9.th position.  
The first qualifying session, at 13,45, started with a not lucky situation: after one fast lap, that setted immediately Leonov in the top ten standing, one stone launched by another bike broken the radiator of the Yakhnich Motorsport Yamaha R6. Vladimir was so obliged at a long stop to change it.
When he entered finally the circuit, it was 8 minutes to finish the session, but again Vladimir demonstrated his good moment, fixing immediately, after two laps, the best personal time of 1'33"475, more than half second faster respect the morning session. This laptime at the moment means the 10.th position on the grid, but we hope to do better tomorrow. To be qualified in second row is the target of the team. And it is possible.
VLADIMIR LEONOV
"I was not so lucky today. The morning was very difficult and cold, and easy to crash with the slippery circuit. In the afternoon we did some modification in the setting and it worked immediately, but because of the radiator broke we could not finalize the testing work. In any case it is nice to see that we are in any case among the top ten".
11.05.2012