Yakhnich R6 sign the new lap record in Mugello for supersport class
ITALIAN CHAMPIONSHIP 2012
ROUND 4-5 MUGELLO
21-24 JUNE 2012
TURSDAY AND FRIDAY PRACTICE 
Again in CIV, after the raining Monza, where Vladimir Leonov could not race to defeat his leadership position in Supersport, and where all team had a really bad lucky results.
And even in Mugello for this double race week-end things started not so well in Thursday free practice. Sergey Vlasov's engine was broken, and Dakota Mamola training was disturbed by some electronic setting not properly for the new engine step we preared for him. 
On the other hand, David Leonov had a very good free practice, signing 2'04" that right now is his best result.
Even Massimo Roccoli, that is again joining the team as substitute of Vladimir Leonov (still working hard in his leg to be ready for next World Supersport Stage), had a good training, working hard with the team to develop the new engine we will use in Aragon with Vladimir.
And the direction choosen by team seems really good, as we saw today in the fist qualifying session: New record of the Mugello circuit in 1'54"3, top speed overall (even compared to Moto2 bikes, with 283 km/h at the end of the straight, and the clear possibility to sign 1'53", if he does not find traffic in the last lap, where, with a finished rear tyre, at the middle of the map he was already 2 tenth of second faster than his incredible pole position!
And, even, is notable that the Yakhnich R6 was the faster as rithm, with the top number of laps did in 1'55" while using the race tyre...
In the same session, we even had the satisfaction to see Serrgey Vlasov signing his best lap of the season in Mugello , doing 1'58"6 using the Stock 600 engine on his Supersport, waiting that this night mechanic will change again to Supersport Engine for the saturday qualifying.
The really good friday atmoshere was confirmed even by the two younger riders of the team: Dakota Mamola for half of the qualifying session was stable in second position in the Stock 600 ranking, and he closed with a really good seventh positions just because we decided not to put new front tyre in his bike in final laps, to save it for tomorrow, when qualifying will be done in the morning, so with better condition than the today hot hasphalt and temperature. He is ready for the first row...
Big smiles even for David Leonov, now riding better and better every race. He had a consistent rithm, and signed 2'04"9 in first free practice, and 2'06" in second one, with old tyres...
Be ready to hear that tomorrow morning in qualifying he will do his personal new record in Mugello.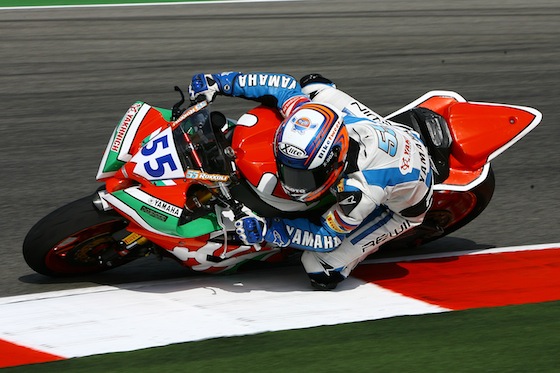 22.06.2012