Leonov 10th in Brno
World Supersport Championship
Round 8
Brno 20-22 July 2012
SUNDAY JULY 22.TH
As the Friday and Saturday practice told us, Brno it was the "re-borning" race for Vladimir Leonov. The physical and mental conditions going better and better was the base on which we builted a good race performances and results.
The race was stopped during the first lap for the crash occured to two riders in the last rows. We must say unfortunatly, because in the first start Vladimir had a good shoot out. It was not the same at the second start, where he llose two positions, from 14.th to 16.th. It needed three laps to overtake the slower Tamburini that has a fast Honda on the straight, but was stopping Vladimir ritmh's on 2'06". This created a hole beetween the leading group and Vladimir, so, when he overtooke Tamburini, the rest of the group was 2-3 second ahead.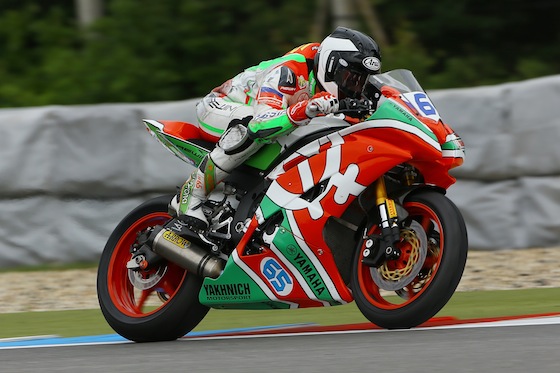 Ok, let's work: The Yakhnich R6 immediately setted a rithm on 2''5" lower, and, it allowed him to overtooke, step by step, Metcher, Debise, Day, Talmacsi and Lanousse. Five riders, it meand 10.th position at the 13.th lap... An hard job, but the Yakhnich Team riders was having fan today, was riding easy and under control on the 2'05" rithm, that it means that with a good start his  effort would have been prized with a much better position (around 6.th to 8.th position it was a reasonable target...). Then five laps to go, another target was in his mind: let's take Iannuzzo and Maybe Cruciani, just some second ahead, hoping that our hard tyres would have been more preformer in the last part of the race. 
But, again, the bad luck turned it of our hope: a terrible crash of Quarmby in the 14.th lap obliged the race director to expose the red flag, and so the race was judged finished at the 13.th lap. Now, with this points, Leonov is 11.th in the general championship standing, and Yakhnich team is 9.th.
VLADIMIR LEONOV
"Finally a good race. Ok, the start was not really good, and I loose lot of time back of Tamburini in the first three laps. Without this, I'm sure today it was possible to fight for the 6-8.th position. In any case it was a positive day for me. The body is responding every day much better, and I needed to stay there and fight... and have fun, to rebuilt my mental condition. Yes, I think finally we are on the way for a very positive second part of the season!..".
22.07.2012