Friday, CIV, qualification
ITALIAN CHAMPIONSHIP 2012
ROUND 6-7 MISANO
27-29 july 2012
FRIDAY 27.TH JUNE
YAMAHA R6 CUP
After the very good result of the Coppa Dei Due Paesi partecipation in Brno, David Leonov is continously improving his performances in riding the Yakhnich Motorsport R6. Just from the beginning of the week-end he immediately setted laptime under his last record, riding easily under 1'50". Better, in the morning free practice, when he was able to improve lap by lap up to signing the wonderful 1'48"1. In the hot afternoon free practice he essentially confirmed this 1'48" rithm.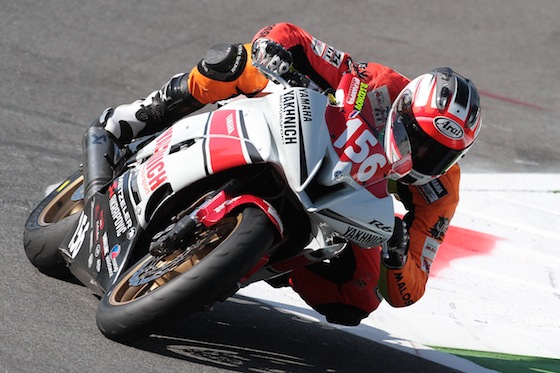 STOCK 600 
Dakota Mamola too went back from Brno with a big smile. Instead of his injury in the left shoulder, occured just to days before the Brno race, he is doing better and better, and in Misano from the thursday free practice he was immediatley able to ride under his personal record. Before this stage, his best time was 1'44"9, and in two practice days he went down up to ride in 1'42"8! So during first qualifying of friday afternoon we was expecting very good performances, but unfortunatly dakota had some cluth problems during the official session. What happened? It happened that at the end of the morning free practice he tested the start (without advise the mechanics) and it created stress to the clutch due to the very hot weather conditions.
SO, his best time during the qualifying was "only" 1'43"4, good for the 23.th position. Not was we was hoping, but there is space to do better tomorrow morning.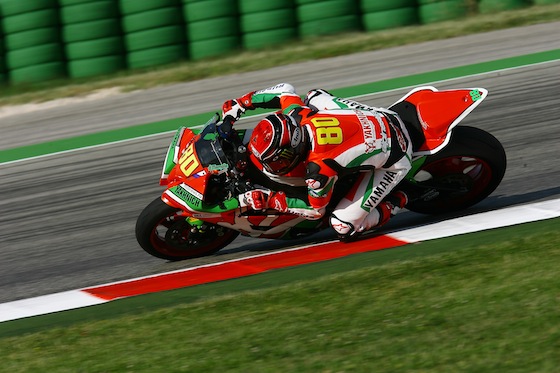 SUPERSPORT 
Which is the best news for the Yakhnich Motorsport team? The provisionale pole position of Vladimir Leonov, or the very good 13.th position qualifying of Sergey Vlasov? Both of them, naturally!
Vladimir is strugelling from thursday with a noisy chattering in the front. Team worked hard in two days, and at least it seems the setting is not so bad. With the soft tyre Vladmir signed a very good 1'39"3, but in reality we have to work more to make it as a race rithm, not a one lap shot. That is the work for saturday morning second qualifying.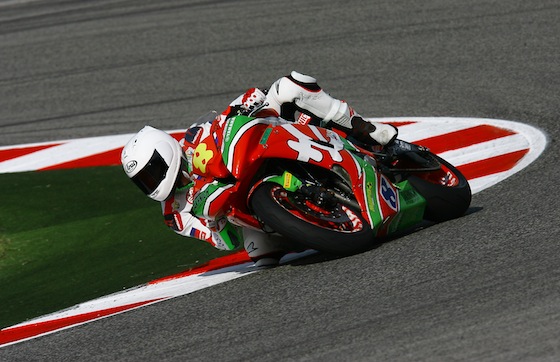 On the other side, Sergey Vlasov had the best week-end in CIV up to know. His 1'42"1 is very well promising for the second qualifying and for the race, even because he and his team well know there is still space for improving the bike performances.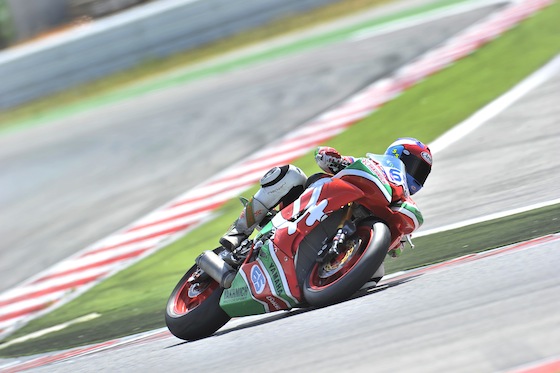 Vladimir Leonov 
"I'm not in avery good healt condition, but what is more difficoult to solve is the front tyre chattering. I hope for the race we can do even better that we did up to now, because I know there is the space to do much better. I mean... Provisional pole position is really a great result, but we can do better! ".  
Sergey Vlasov
"I'm happy for the result and for the rithm we kept, but the bike performances can be improved again. I have some problems to solve with the shifting. For sure 1'41" is in our possibilities" 
Dakota Mamola
"I'm so happy about the performances improving in this circuit. Now my rithm is 2 second faster than ever, and I felle very well on the bike. I just need to be much more lucky than up to now... Hope tomorrow to to even better"
David Leonov
"Finally I went under the 1'50" and it was much under... I feel myself every day better on the R6. Today in second practice I had a very bad moment, was quaite going to crash at Quercia Corner, and it blocked my performances in this session."
28.07.2012