Yakhnich Motorsport plans for 2013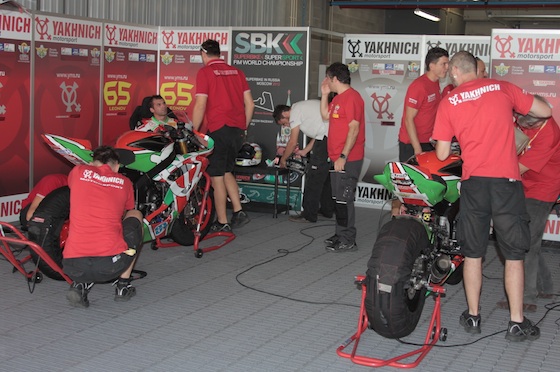 2012 racing season Yakhnich Motorsport team can safely take credit. The first season at the global level, a team – novice, pilot – debutant in class, in such conditions Russian team managed to win two podiums, became the best Yamaha in the class and finished the championship in 11th position.
Yakhnich Motorsport doesn't stop with this. Vladimir Leonov continues his performance in the team. Russian rider has signed a new 3-year contract. For the same period signed contract with new rider - Brit Sam Lowes.
But today Yakhnich Motorsport has not only the strongest drivers, able to achieve the best results. On November Laurens Klein Koerkamp, head of the racing department of Yamaha Motor Europe N.V., officially confirmed that the team has the support of Yamaha Motor Europe N.V. in 2013. So now the team has a motorcycle, which can not only to fight for the podium, but to win.
About luggage team goes to the first test, the director of the team Natalia Lyubimova, "Racing season 2013 for us started with the signing of a multi-year contract with two of our pilots - Vladimir Leonov and Sam Lowes. In 2012, our team has done a great job in the development of the technical part of the motorcycle. Pilot Vladimir Leonov earned two podiums, got important experience in this complex category as Supersport, was able to get acquainted with all tracks of the championship. The team did a great job base, and at the first winter test at Jerez we have two fast drivers, two fast bike, and more importantly, highly skilled staff of engineers and mechanics. In the upcoming season, we have some goals. The main goal - to win the title, and I'm sure we can do it! With support from Yamaha, we will continue to improvement of our bike. And, of course, to please our fans in Russia and around the world with battles and victories with the flags of Yamaha!»
Yakhnich Motorsport intend to actively develop cooperation project with Yamaha, and already in 2014-2015 move to the Superbike category.
Yakhnich Alexander, president of Yakhnich Motosport: «We are very pleased to work with Yamaha, we see great potential in this cooperation. So winning the Supersport seems possible to me, as well as the further development of our cooperation in WSBK and Moto GP. Very nice to know that the world is changing, changing for the better, and we and our partners are directly involved in this. Russia has its own winning team, has a stage of the championship of the world, and our country has become one step closer to world motorsport.
02.11.2012