Moto-weekend in St.-Petersburg
The first Russian Women motorcycle Team "Yakhnich Motorsport" took active part in the work of the first St. Petersburg International motor-show IMIS 2010 held in TEC "Garden City".
At the exhibition the team had its own stand where Yakhnich Motorsport Junior Team was officially presented. The idea of this unprecedented for Russian motor-sport social project is to create a racing school for teaching children and teen-agers at the age of 12-18 to ride minimotorcycles. It is noteworthy that children will be admitted to this school on the competitive basis and all the classes (theoretical and practical) will be absolutely free of charge. The leader of "Yakhnich Motorsport Junior Team" a titled racer Ivan Lukin gave an official presentation of the project. He answered all the questions of journalists and attendees about special features of minimotor class and conditions of participation in this project. Two Italian minimotorcycles adorned the stand "Yakhnich Motorsport" and attracted the exhibition guests' attention who were making pictures with them while young attendees were filling in application forms for participation in the selection to the junior team and asking Niki Kletsky (a pilot of "Yakhnich Motorsport Junior Team") questions about her participation in the forthcoming Russian Minimotor-racing Championship.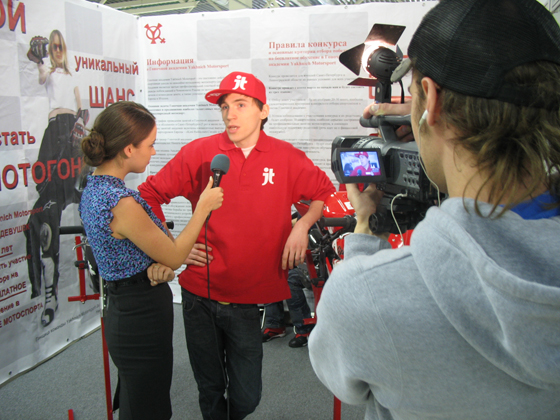 The junior branch of YMS made itself known at the prestigious St. Petersburg exhibition, and as the junior team will be based in this very city there is a big hope for its successful development. The selection to the racing school starts in May already.
The twice winner of the Russian Cup, a pilot of "Yakhnich Motorsport" Nataliya Lyubimova was a special guest of the motor-show. She answered questions about situation in the contemporary Russian motorsport. Besides that she took part in the awarding ceremony of the first Open Russian Standriding Championship. Together with the organizers of the exhibition and the Championship Natalya congratulated the prize-winners on the main stage, presented them Yakhnich Motorsport calendars "The best PILOTESSE of Russia" and said some words about this special project: the five best Russian racers among women appeared in the pages of the calendar in glamorous, colourful and very unusual images, having  changed their racing suits for designer stylish and extravagant clothes. Now the best Russian standriders have these exclusive calendars.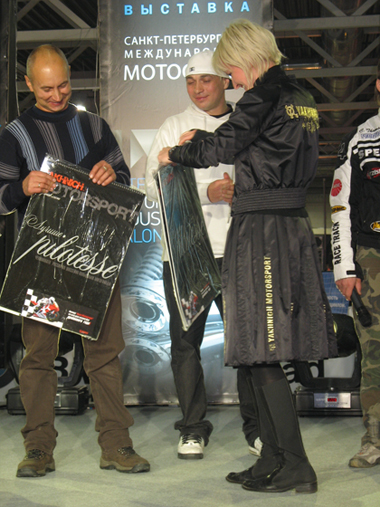 On the whole, participation in the St. Petersburg motor-show was very successful for YMS. It was a good opportunity to get acquainted with a lot of interesting participants, communicate with colleagues, call people's attention to the junior team and leave some mark in a very important Russian sport event – the first Standriding Championship.
"Yakhnich Motorsport" expresses its thanks to the organizers of IMIS 2010 for the great show of a high international standard! We are looking forward to IMIS 2011!
29.03.2010