Junior team YMS - winter tests in Spain
According to the team's plans voiced at the beginning of 2009 "Yakhnich Motorsport" sent its two junior pilots to the test session in Spain. This happy chance to try the big bike was presented to Nika Cletsky and David Leonov. 

Test sessions for the promising cross-country motorcycle racer David Leonov were conducted by Claudio Corsetti in Almeria, and Nika Cletsky had practice under Maxim Kiselev's guidance in Cartagena.
Nika Cletsky: "From the first session I drowned myself in work: having remembered and analyzed configuration of the track I started increasing speed lap by lap. Every new session I was able to improve my results owing to a large extent to instructions of my coach, the Champion of Russia Maxim Kiselev. On the third training day I managed to find answers to many questions and felt more confident on the bike. These three sunny and warm days gave me an idea of working with the big bike on the big track. I feel ready for serious work and new challenge this year!"
Maxim Kiselev: "I am very satisfied with Nika's results. She didn't miss any session except for half a day spent on the bike adjusting. She has such an important for sportsmen and enviable quality as persistence. I could see that the sportswoman was familiar with the track and undoubtedly she understood principle of motorbike units operation. Of course she had certain problems with some moments of piloting – with speed changing, her seat which she had taken from her minimoto experience. But even within these three days she managed to cope with the problems and it cannot but make me glad. There is hope for perfect results in the future"!
David Leonov: "I had long wanted to try my wings on the track. It was interesting for me to get an idea of riding on the smooth asphalt because before that I had performed only in cross country racing. It's a whale of a difference! Trajectories are absolutely different; there are no springboards, besides that cross country motorcycling presupposes more body movements and when riding a sport bike you have to "embrace it". I think there is more drive in cross country motorcycling but I liked road racing too. At present moment I find cross country motorcycling more interesting though it must be so because I have just started training on the track. It was pleasant to work with Claudio. Tough he is a very famous coach I didn't feel any hints of "megalomania". He is very professional, very outgoing and explained everything understandably. I liked working with the team "Yakhnich Motorsport" very much. All the team members are funny, everybody is sociable and ready to talk to you about anything you like. I didn't feel the same in cross country motorcycling… As for the first race, it may seem strange, but I wasn't nervous. My first start turned out very funny: Nadya had come to me and said that I was to start when I saw green signal. But instead of it red light went on! I stood and waited and then followed the others. Finally I finished in the last group of ten. But in this case my result wasn't very important, because my aim was to train my technical skills – how to enter bends correctly, how to lean, how to brake. Everything was great! I am looking forward to the next test session!"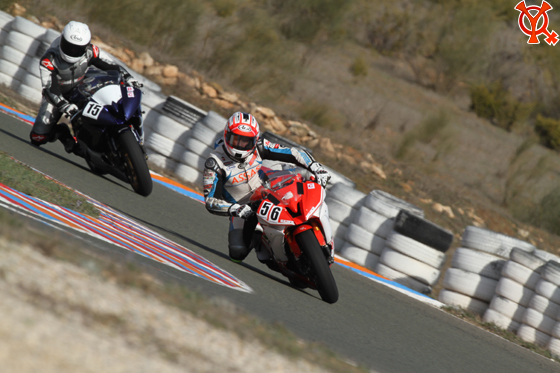 Claudio Corsetti: "I have been working with young racers for a long time already and David's practice in Almeria is no wonder for me. Those who are not used to sport bike racing always feel rather strange at first, but in the course of some sessions David managed to adapt to Yamaha R6. Yes, he is very experienced in cross country motorcycling but sport bike riding requires other skills. David was quick on the draw, from the first session he started accelerating lap by lap, gassed more and more and recorded better and better time. Unfortunately, strong wind on the last training day prevented him from improving more, but now it is clear that with the result 1'56" at the first training session in Almeria this racer with incredible energy and desire to win will have great success!"
01.03.2011