Qualifying session one, CIV
Yakhnich Motorsport, CIV 2011, Second stage: Monza 28 april – 1 may, Saturday 30 april.
Lot of emotions for yakhnich Team in the first qualifying sessions of Leonov and Vlasov.
Vladimir's session started early in the morning, with the circuit still umid from night rain. Leonov used slick tyres, and lap by lap he gained the first position after the first 10 min! For many laps he was unbeatble, riding in 1'54" while all others was not able to do better then 1'55". Then the line bacames dry, and he stopped at box for some rest. Exitiht for the last fast laps, he finded on it's way a slower riders, that did not gived him the possibility to defeat his pole position by the attach of the more experienced riders in the last two laps. 1'53" his best lap, at least gived him the seventh position on the grid but even the confidence that to attach the first row in second qualifying is possibile!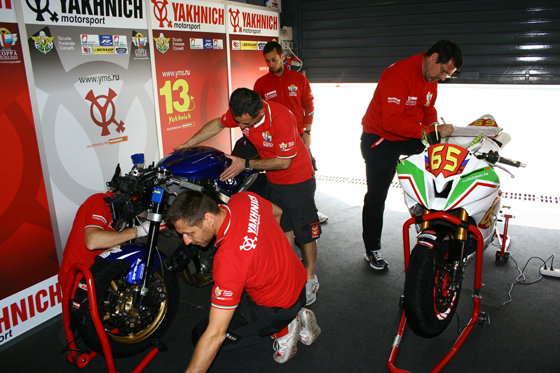 Opposite situation for Vlasov. His first laps was not so fast, as he had to be used with the modification made by the team on bike setting. But, in the second part of the session he became faster and faster, jumping from 22.th to 13.th position of group A just in one lap. By the end of the session is bad physicaly condition didn't allowed him to improve again, but we all are confident in an even better result in second qualifying, as team understood how to modify his bike to have betyter and better perfomance!

30.04.2011