RACING IS NOT CLASSIC MUSIC: SERGEY VLASOV LOVE ROCK
They says: "racing is not classic dance"... you want to understand why? Well, for many reasons, but if you would have had a great picture of this way to say, you should have been in Misano, today, for the Metzeler Cup second stage race. Sergey Vlasov, poleman with an astonishing 1'43"3 in qualyfing, one second faster of second position competitors on the dry asphalt had to start for the first wet race of his life, after a great rain storm that obliged organizer to delay the start of about 1 hour in the late afternoon. Just 6 corners in the positioning lap, and Sergey was already flying on the air after an unespected high side... Ok, Sergey: first lesson on wet asphalt: never open the gas when rear tyre across a river.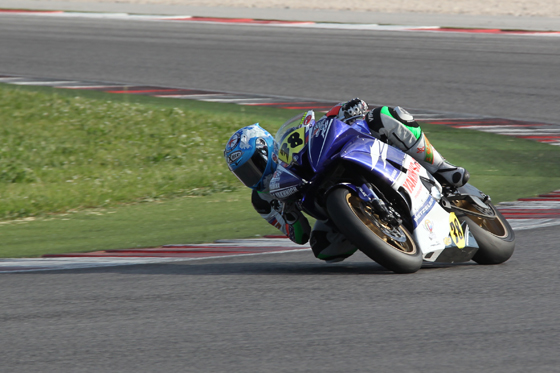 While team was especting him on the grid, he entered box with a injured right shoulder and an injured right part of the bike: handlebar not more in line, brake not braking, footpeg looses in corner 6, fairing in some more parts than standard...Crazy ballet of team mechanics, and, 1'30" after the start, when the race leader was going to finish his first lap, Sergey could start his race from pit lane.Great disillusion from all team, wondering the second day victory after the Leonov race in Mototemporada 600. But.. but... first lap in 2'14"... What's that? Sergey, was not overtaken by the first, and, incredible, was riding 20 second faster then the middle group riders, and about 4-5 second faster then the leaders.... one lap again, and from 26.th position, he acrossed the finish line in 21.th position, riding in 2'12", 2" faster then leaders, 25" second faster then the group... Another lap: 2'09", 15.th position gained, 3" fastest lap then the leader...Yes, that's Sergey "Psyco" Vlasov: in three laps he gained about 1 minut on the middle group and more then 12" seconds to leader of the race. Incredible, unbeliveable. Already in the point starting quite with one laplater then all the group. Do you understand now why they says: "race is not classic music? No, you cannot understand until we tell you the rest of the story: In first fall down Sergey Injured so hardly the right shoulders, that he was riding in this condition only with one hand.. The right one without force, without the possibilities to ride properly, soffering an enormous pain, a so hard situation that after his three-four laps he lost the possibilities to ride in right corners, no way to dominate bike and use gas with the proper smooth action... and... right corner of Tramonto of fifth lap pushing again against the cronomether, he lost again the grip in the rear and his race finished with the second high side. That's why race is not classic music. That's why all competitors made anatural and great applaudisement at his price cerimony for fastet lap,after loosing half an hour in medical center for controlling his shoulder. Great job Psyco.. Let's go like this! We like to live this emotions in Yakhnich Motorsport box!
Claudio Corsetti Team manager: "Before the race I spent lot of time trying to explain to Sergey the secrets of riding on wet asphalt with rain tyres... not seeing him arriving on the grid I thought: I must go back to english class....But, after the crazy work in the 5 min in pit lane, looking him soffering and mechanics working, my only idea was to send him inside in every case to let him keep experience in the the wet. In only one lap after his starting, he demonstrate me that I do not need more english classes: he understood all, I'm sure. Maybe he understood even something more that Idid not explained to him. Well done Sergey, thank's from all team for the show you made in only four laps in the swimming pool!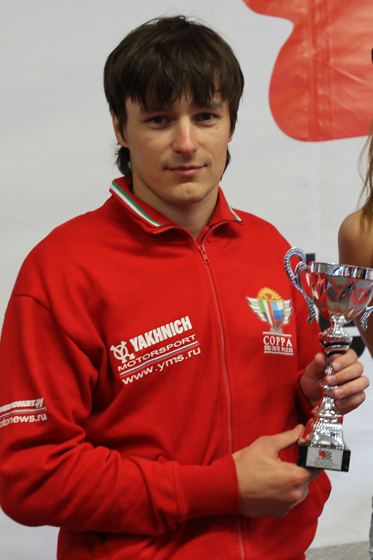 16.05.2011