Successful return of Nadia Yakhnich in Magione

Close your eyes and think to a desire... that could be the pre-race leit motiv of Nadia Yakhnich. Caming back to a real race week-end, after the neck treatment of one month ago waiting for the answer... Did it worked or not? Desire of all team was, naturally, to see that finally the health problems would be solved, and it ws more than an hope, after the test of two weeks ago as wild card in misano Mototemporada.
And... yes. We have the answer: the special treatment made in bologna at beginning of april worked, and gived back to yakhnich team a new rider, the real Nadia Yakhnich.
Great desire to jump on the bike, great desire to fight with other riders, great desire to demonstrate her value, great desire to sty on the truck as much as possible... all these desire now can be realty, and she did. Never seen her in last years braking so hard, fighting with man, improving her performance lap by lap, and, incredible for who knows her health problems of last years, having her new personal record in the second qualyfing and the best lap in the race just at the last of 15 laps! Wonderful, much more then the 18.th position in the Amatori Base race can say. Welcome back Nadia, now we are ready to improve performance and results for the rest of the season.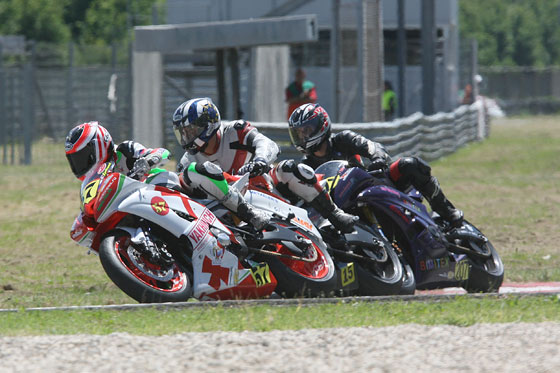 Same happines in the smiling face of Natasha Lyubimova: new personal record in Magione circuit (1'18"2, during the hard race in Amatori Avanzato class) arrived after the great satisfation to be qualyfied in the top race (in Magione due to the short circuit some riders was eliminated in qualyfing) leaving some man out of the race and overtaking others in the very hard 15 laps, all of them closed within 1'18-1'19". In the middle of the race it seemed tha Nata could even recover the distance of 3-4 seconds from the group of ridrs staying in 20-24.th position, alla of them riding 0,5 seconds slower for many laps, but at least she closed 25.th. Yes, even Natasha close this week-end offering the team a very consistent and effective demostration of her good and stable performances. That is a good moment for the yakhnich team, and we hope to save this good mental conditions even till the event of«Coppa dei due Paesi», next 12 june in Misano.
02.06.2011