"New" Nadia Yakhnich
FRACIACORTA 4-9-2011
TROFEO FEMMINILE
4th STAGE

The best ever race of Nadia Yakhnich was seen in Franciacorta, in the last stage of Trofeo Femminile 2011. Even if she arrived in Italy with terrible muscle contracture in shoulders and hands, she worked hard to solve this problem with medical treatments, during the race week-end. We started to work step by step, with few laps every free session of Friday, but her mental condition permetted her to fix immediately, from the first session, the best ever result in this circuit (1'20"2). And during the last session she worked to improve the body performances and the bike set up.

Saturday morning, official sessions. In a few laps she went immediately under 1'20", fixing the first run in 1'19"... one stop, go into again and... wonderful: 1'18"6, 1'18"4, 1'18"2... only two second from pole position and immediately back of the ever faster riders that just one year ago seem too far for nadia. 8th position on the grid! And one more run always on the pace of 1'18"!!! Yes, this in another rider... as the health condition allow Nadia to ride, she shows his real potential.
Ok, let's use the second session just to confirm her pace and her position on the grid. And wait for the race with the biggest smile ever seen in her face!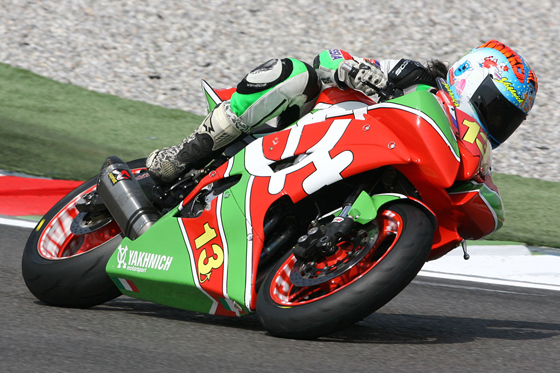 Sunday: a wet circuit is waiting the team. Good: Nadia always does good training on the race and... In fact her start was perfect: 8th position in the first corner, and immediately she was inside the leading group. Corner by corner she started to push immediately as never done... one overtake, second overtake, all in the first laps. Faster then most of the riders of the leading group, she was preparing to attack even the fifth position in the middle of second lap, but unfortunately she was too much aggressive with the gas exiting from corner 4... loose the rear, high side and crash!
Ok Nadia, don't worry, in any case that was the best demonstration of your new "status" as rider: always going for leading group, in the official sessions and in the race!
Honestly, looking to your performances, today we can ensure that finishing the race we would have seen you in the first 5 positions.
Don't worry... will be for next race! And thank you from all team for the great satisfaction you gived us in this weekens

05.09.2011