Sunday July 1.th
World Supersport Championship
Round 7
Aragon 29 june-1 July 2012
SUNDAY JULY 1.TH
A colder temperature (18-20 °C) and a very strong wind, was waiting today the protagonists of the WSBK races in the Motorland Aragon racetrack. All the strategies studied on Friday and Saturday, especially for the tyre side, had to be revolutioned during the morning warm-up, as the asphalt temperature was much less higher then yesterday.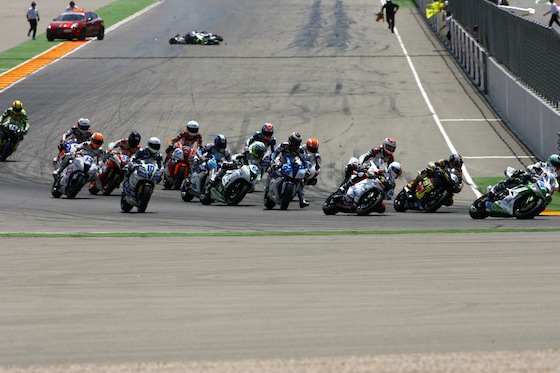 The fresher air was a good news for our rider, still fighting with the pain in left leg. Even in warm-up he confirmed the rithm of 2'05" and that was what we was expecting for the race, knowing it would have gived him the possibility to fight in the first 10 position, that's the maximum we could hope for Vladimir in this phisical conditions.
The race had a double start, as in the first  an accident occored in the start between Polzer and Scholtz obliged the race director to expose the red flag.
in both starts  Vladimir had a good move from his 20.th position, conquering immediately the 15.th position. He followed the leading group, and seemed able to stay there. Two, three laps and he was still there, figthing for 15.th and 16,th position with Antonelli and Tamburini, and even going to catch Day, the man that will finish the race in 10,th position. But during the sixth lap Vladimir stopped at box, because of a broken sensor in the rear wheel was giving to the Marelli ECU wrong signals and it decreased the bike performances.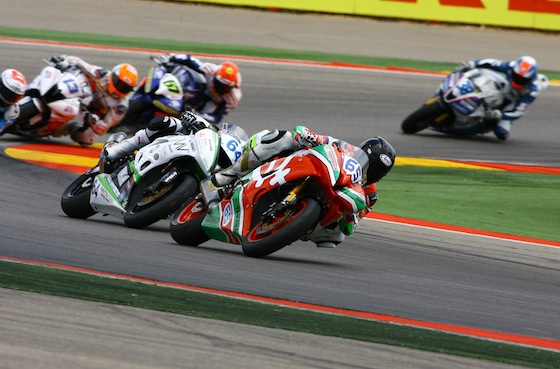 VLADIMIR LEONOV
"I was there, and finally I think I could stay and fight with that riders for all the race. The rithm was not so high, and looking to how many riders had to slow down or crashed, I thing today we could obtain a good amount of points for the team even if I was not in the better condition. OK, in any case Aragon was a good training for my leg, and I hope in next race in Brno I'll be ready to fight for better positions. Tomorrow we will stay here to test new tyres for 2013, and even a new engine we are developing for the future. Let's see...".
01.07.2012