Motor Review – an article with Dr. Costa
2010, motor-review #2 (90)
text: Natalya Lyubimova, Nadezda Yakhnich, Claudio Corsetti
photo: from Yakhnich Motorsport's archives
We were very nervous before our meeting with a person whose careful hands had cured all the pilots of Big Prizes. Our expectations came true: the conversation with Claudio Costa instilled into us some special composure and confidence in the future. Doctor Costa thinks about motorcyclists not just like about his patients who got to his clinic through inattentiveness. He respects them very much and considers them all to be real heroes.
Our conversation started without any preambles. Claudio can see and understand everything. In our opinion, the main problem of injured sportsmen is the fear. Many of them have to spend months and sometimes years to cope with it.
Claudio Costa: "If you want to play you must love music. If you want to race you must love motorcycles and racing. A real pianist doesn't look at the keys he feels, loves the music. It must be irrational love. You must be ready to die for this love!"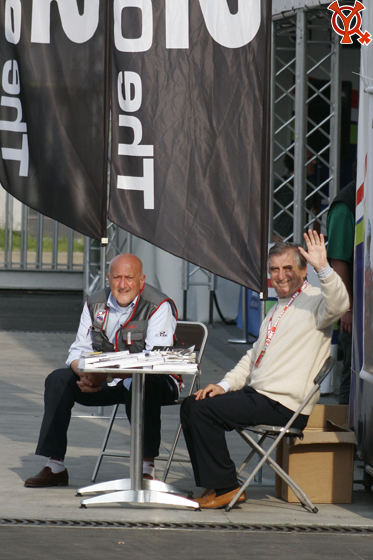 Claudio noticed some astonishment on our faces caused by his words and added: "It you accept this idea as the most important of all you will never die! When you start just riding a bike the rational part of your mind tries to control the process, your head analyzes constantly: I am scared, here I can ride faster, here I must brake. But there is much irrational in sport and it is controlled by another part of your brain. You shouldn't think, you must follow your emotions. And this is called riding a bike. You must accept this idea, die for this love!"
Dr. Costa turned to Nadja quite often while talking because he knew about the injuries she had got on the track before and some psychological problems which had appeared in the period of rehabilitation:
Claudio: "You must realize very important things: bad results, bad emotions, falls and disappointments are not the punishment for something but the gift of your fate!
Your experience got before enables you to overcome hard moments of your life. They can be compared with a castle hidden in all of us: it can be ruined completely, but there is always a unique opportunity to build some new, better castle of these ruined parts.
But you can choose something different. Just imagine a small box where your problems and fears live and you live together with them. Everything around tells you that you are weak. In this case racing is impossible! Choose what you want: to stay inside this small box or to get out of it?
Are you scared? But fear produces fear. It is knocking at your door more and more loudly. (Costa came up to the door and knocked and then opened it.) You open the door and there is nothing behind it! Fear is the gift too. It is a wonderful thing, the starting point of your climbing the mountain in order to see the stars in the sky again!"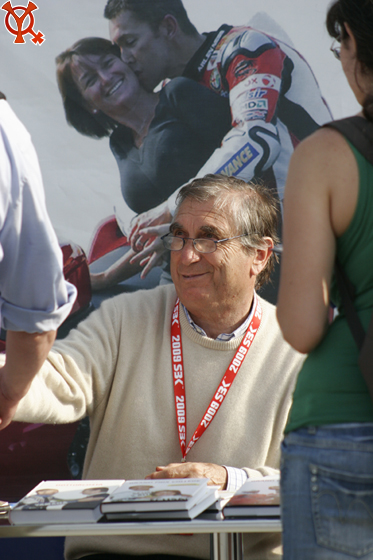 Claudio Costa was absolutely sincere and so inspired that his words touched our hearts and tears appeared in Nadezhda's eyes. He noticed it too: "You are emotional and these emotions you feel are the greatest thing. It shows that you can overcome your fears and become a winner! Anyway you must wait and believe that the best time will come and bring good emotions, feelings which you had in the past when you were playing music".
Everybody who has hard times must come back and find his way. But it is not easy at all to ride a bike. And one hint can help you here. Claudio would like every racer to see a woman dressed in black and holding a scythe – yes, she is Death. "If you see her – you ride fast! This very woman gives you the power to be a racer."
Nadja: "But I see her everywhere!.."
Claudio: "It is not enough just to see! When you start loving this woman you will start riding faster than before. We must do this way with the blackest and the most terrible things inside us – to love them."
Natasha: "Must the Death become your friend?"
Claudio: "Yes. We are afraid to accept the idea that we will die. We don't want to see that we can be stupid, wrong and silly. We cannot agree with these thoughts. But if you don't agree, you just start being silly, wrong, making mistakes and fighting against everyone by your side".
Natasha: "It is difficult to understand…"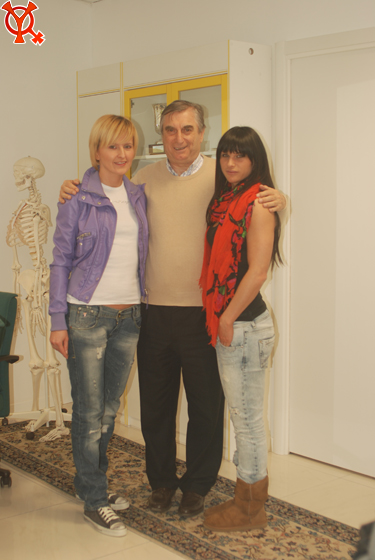 Claudio: "No. It is easy to understand but difficult to accept! I have been working with racers for 40 years and I can see their fears. I have seen fears of Valentino [Rossi], Marko [Melandri], fears of Lorenzo, everyone has his own story…
I remember Lorenzo's fear: it was the same with Nadja's. He stopped and couldn't ride on! We talked a lot about it with him and tried to listen hard to his heart, but he didn't know how to hear it. It took a lot of time but he managed to overcome his fears, built a new castle and now he is even stronger than before!"
Our conversation touched upon very serious problems and we started to ask questions that had troubled us for a long time.
In the history of Big Prizes there were situations when it was impossible to help a racer in all senses. What did Dr. Costa feel then?
Claudio: "Yes, there were such moments. Very hard moments. When I realize that it is impossible to help I still do my best to correct the situation. So it happened to the famous Italian racer of the 70-es Rendi Pazolini, it also happened to Daijiro Kato. When I realized that Kato's heart had stopped beating I was ready to give him mine. But… Then I cried, I cried very bitterly! I cried because of many reasons. In the first place, when a racer dies, I lose a hero. In the second place, it is because I am not God and I cannot bring him his life back… In my profession it must be the hardest thing".
But why, having good idea how dangerous our kind of sport is, racers come back on the track again and again and even being injured they still dream to return into racing?
Claudio: "Running risks we learn ourselves and other people know us better. If you don't do anything, nobody will know about you. Even a postman won't know that you exist, if you don't open the door. But what is more important: you don't know what is absolutely right and what is wrong! You just follow your dream. At this moment, and for some people it can be even tragic, you realize that you possess something very important, that can be even called Paradise. When we lose this feeling, we try to get it back by all means.
There are racers, I know a lot of them, who don't take part in competitions. They don't need any cups, victories or World Championships. And they are stronger than those who win Grand Prix, though they realize that they will never climb the podium. They need different feelings, something bigger than victory.
There are some others who will always be outsiders according to generally accepted norms. They cannot win because they fall when they overstep the limits of their abilities. Do you know how Mick Duane became a repeated World Champion? Mick had always been very fast. In 1992 he was seriously injured and came to Italy to undergo some rehabilitation course. After we had got acquainted he won the title of the World Champion 5 times! He saw some special light, a sign from above, and then – one more, which made him finish his career. You must feel that your bike gives you something that you have lost. When you ride a bike you can see this light. When you don't ride it you can be pretty good at everything but you don't have this light! Go on riding and love your bike. You must love your bike as you love yourself, your heart and soul. The bike has soul too. Every time when you go through difficult moments and don't have faith in yourselves and your power you take soul away from your bike too. "
Does Claudio Costa have his favourite racers?
Claudio: " From the past – Mick without doubts. At present? Yes, I do. But I won't say who he is. Now I am Father for all and cannot love the only one".
What can you wish to Russian motorcyclists and readers?
Claudio: "The Bike gives us a chance to discover the spiritual side of life such as love. The bike and love exert the same influence on people. Look for and discover hidden corners in your heart".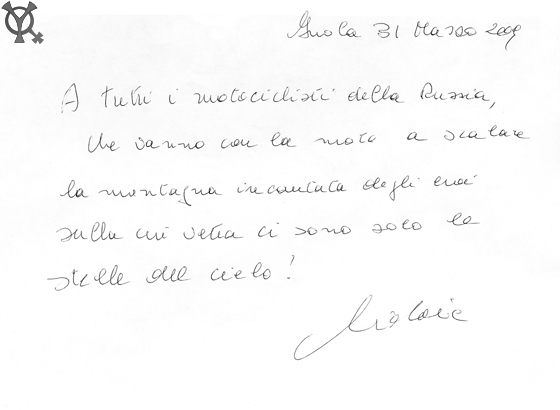 "I send my greetings to all Russian motorcyclists who climb magic peaks and only stars are higher!"
P.S. Later, when we were taking our leave, Costa said: "I must confess, I expected some ordinary interview. I would have answered different questions even banal ones, but our conversation turned out to be special."
The publication in "Motor-review" you can findhere.

08.03.2010